Chicken Stuffed Poblanos filled with fire-roasted tomatoes and black beans, then topped with melted cheese and an avocado crema to die for. A gluten free meal that will quickly become your family's favourite!
Ingredients
Ground Turkey Stuffed Poblanos:
1 tablespoon grape seed oil
1/2 cup diced red onion
2 garlic cloves, minced
500g ground chicken breast
2 teaspoons cumin
1 teaspoon smoked paprika
1 teaspoon chili powder
1/2 teaspoon salt
1/4 teaspoon black pepper
1/2 cup low sodium black beans, drained and rinsed
400g fire roasted diced tomatoes
6 poblanos
12 tablespoons shredded mexican cheese
Avocado Crema:
1/2 cup plain greek yogurt
1 avocado
1 1/2 tablespoons fresh lime juice
1/4 teaspoon ground cumin
1/4 teaspoon red pepper flakes
1/4 teaspoon salt
garnish: fresh cilanto
Instructions
Preheat oven to 180.
Bring a medium skillet to medium-high heat. Add grape seed oil and onions. Saute the onions until they are translucent, about 3-4 minutes.
Add in the garlic and saute for 30 seconds, or until fragrant. Next, add ground chicken breast and cook until there is no more pink. About 5-6 minutes. Add in cumin, smoked paprika, chili powder, salt and black pepper. Stir to mix all the spices together.
Add black beans and fire roasted tomatoes to the ground chicken mixture. Mix everything together.
Slice about a 7-10cm slit down each poblano pepper and stuff each pepper with the chicken mixture. Place stuffed poblanos on a baking sheet, stuffed side facing up.
Cover the baking sheet with a tin foil.
Bake fro 35 minutes.
Remove from oven and sprinkle each pepper with 2 tablespoons of mexican cheese. Place poblanos back in the oven and bake for 5 minutes.
Remove from the oven and let cool.
In the meantime, to a small food processor add greek yogurt, avocado, fresh lime juice, cumin, red pepper flakes and salt. Blend until the mixture is combined and smooth.
Drizzle each poblano with avocado crema.
Garnish with fresh cilantro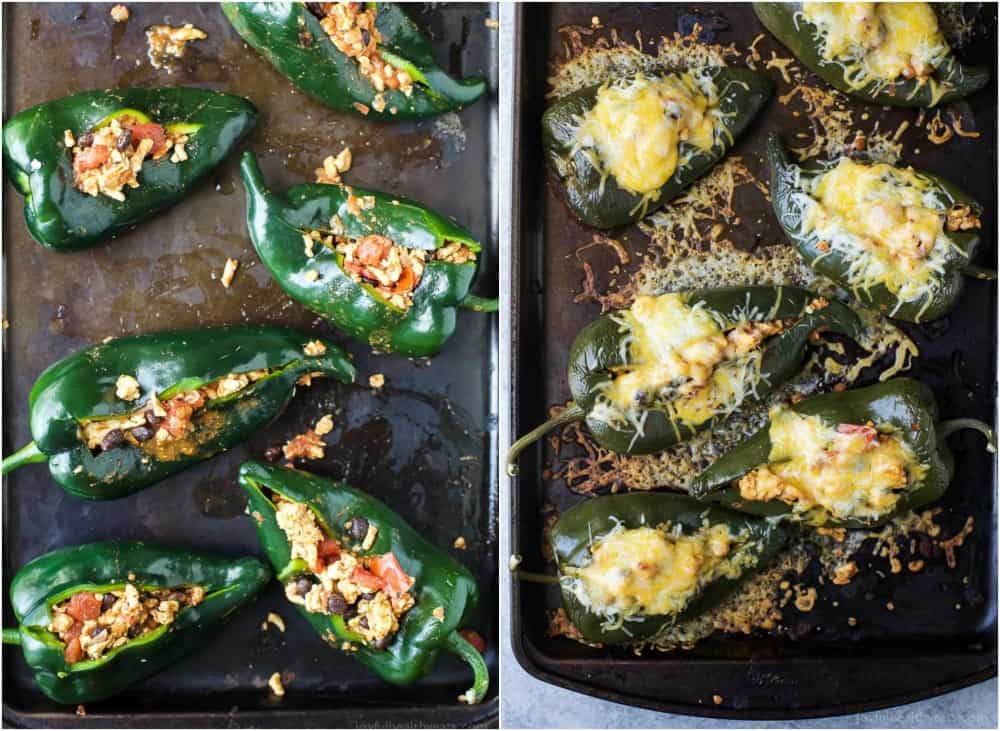 Original recipe from Joyful Healthy Eats.